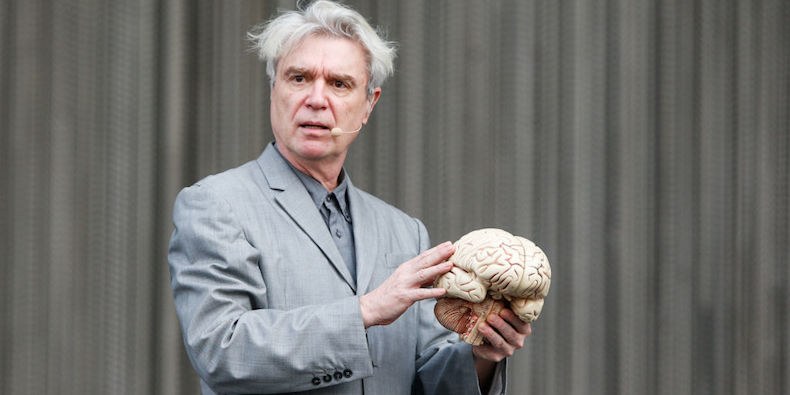 David Byrne playlist
David Byrne playlist
Photo: David Byrne at Coachella, 2018
Short version
I created a playlist of David Byrne songs spanning his career and you can jump to the end if you're not interested in my ramblings. I could talk endlessly about him.
Before 1983
At the beginning of 1983, I was listening to a steady diet of artists like this:
Hall and Oates
Human League
John Cougar
Chicago
Toto
Foreigner
The Cars
Men at Work
Journey
REO Speedwagon
Not that these bands are terrible or anything, but they have one thing in common: I haven't intentionally listened to any of them since then. Except maybe for a walk down memory lane. Or in the case of some of them, a laugh.
During 1983
So, what happened in 1983? I started listening to this wonderful radio station in Chicago called WXRT. It was similar to KFOG in San Francisco where they were allowed some freedom to play what they wanted even unproven hits.
I was exposed to all this music I had never heard before. Different styles and artists unknown to me.
One day they played a song called Slippery People from a band called Talking Heads. Within the first 30 seconds I was captivated by the music and the unique voice of the person I later found out was David Byrne.
This changed my music tastes in about 4 minutes. I completely stopped listening to everything I listened to before. I started consuming every Talking Heads album and over the years found other bands on WXRT that broke the mold.
Enter lifelong obsession
At 12 years old, I embarked on a lifelong obsession with David Byrne. I've listened to every song, been to every concert I could possibly make. I saw my first show in 1989 at the Aragon Ballroom in Chicago. In the last two years, I saw him at Red Rocks and at the Hudson Theatre on Broadway.
I'm not trying to say I'm his #1 fan or anything, but to have the same favorite musical artist year after year for 36 years is probably very uncommon!
David Byrne playlist
I've converted many people to David Byrne fans over the years, but in the age of streaming music, I always thought it'd be fun to come up with a playlist of his work.
This was much, much harder than I thought and I'm not exaggerating to say I've started it and given up many time over a decade. It was hard to decide what it should be:
Something to convert people to David Byrne
What I think are the best songs
A playlist that tries to represent his career
I eventually went with the 3rd choice. A playlist that spanned his career and tried to capture his the different styles. Then I think it could also serve the other two goals indirectly.
Statistics
I love statistics. So after I completed my playlist and was finally happy with it. I did some analysis on it.
| | |
| --- | --- |
| Songs in my playlist | 20 |
| | |
| David Byrne songs | 9 |
| David Byrne covers of Talking Heads and other artists | 6 |
| Talking Heads songs | 5 |
| | |
| | |
| Live recordings | 8 |
| Collaborations with Brian Eno | 6 |
| | |
| Average date songs were recorded | 2008 |
| Average date original songs were recorded, including covers | 1988 |
| Last Talking Heads album | 1988 |
| | |
| Number of albums in playlist | 11 |
| David Byrne albums | 4 |
| David Byrne collaborations | 3 |
| Talking Heads | 3 |
I was pretty happy with this. I managed to create a playlist where half the songs are originally from the Talking Heads era and half from the David Byrne era.
To get a taste of the Broadway show, watch this video from the Jimmy Fallon show recently.
Ok, the playlist
So, I'm going to list all the songs, but I also created a playlist for Spotify and Apple Music. If you're not a subscriber of either, you can sign up for a free trial. Otherwise you're stuck with 30 second previews.
NOTE: Apple Music doesn't have the alternate version of 'And She Was' so I used the original album version
| Song | Artist(s) | Album | Year | Original Year (if cover) |
| --- | --- | --- | --- | --- |
| Strange Overtones | David Byrne/Brian Eno | Everything That Happens Will Happen Today | 2008 | |
| Road to Nowhere - Live | David Byrne | American Utopia on Broadway | 2019 | 1985 |
| Life is Long | David Byrne/Brian Eno | Everything That Happens Will Happen Today | 2008 | |
| (Nothing But) Flowers | Talking Heads | Naked | 1988 | |
| One Fine Day | David Byrne/Brian Eno | Everything That Happens Will Happen Today | 2008 | |
| Heaven - Live | David Byrne | American Utopia on Broadway | 2019 | 1979 |
| Miss America | David Byrne | Feelings | 1997 | |
| Slippery People - Live | David Byrne | American Utopia on Broadway | 2019 | 1983 |
| I Don't Remember | David Byrne (cover of Peter Gabriel) | And I'll Scratch Yours | 2013 | 1980 |
| Totally Nude | Talking Heads | Naked | 1988 | |
| Never So Big | David Byrne/Fatboy Slim/Sia | Here Lies Love | 2010 | |
| And She Was - E.T. Version | Talking Heads | Little Creatures | 1985 | |
| My Big Nurse | David Byrne/Brian Eno | Everything That Happens Will Happen Today | 2008 | |
| Blind - Live | David Byrne | American Utopia on Broadway | 2019 | 1988 |
| Mea Culpa | Brian Eno/David Byrne | My Life in the Bush of Ghosts | | |
| Burning Down the House - Live | David Byrne | American Utopia on Broadway | 2019 | 1983 |
| Like Humans Do - Live | David Byrne | Live From Austin, TX | 2007 | 2001 |
| This Must Be the Place (Naive Melody) | Talking Heads | Speaking in Tongues | 1983 | |
| God's Child (Come Dance With Me) - Live | David Byrne | Live From Austin, TX | 2007 | |
| Once in a Lifetime | Talking Heads | Remain in Light | 1980 | |
A friend forwarded this blog post to long time WXRT DJ Johnny Mars, who had some flattering words:
Wow, what a nice piece. I can understand his obsession. I was taken with them early on from the debut. When I lived in Texas I saw them from a front row seat when they toured the Fear of Music album at New Mexico State in Las Cruces in what amounted to a long lunchroom. Very kind words from your friend. Those were some heady times for the radio station. Feel lucky to have been a part of it.

Johnny Mars, DJ, WXRT