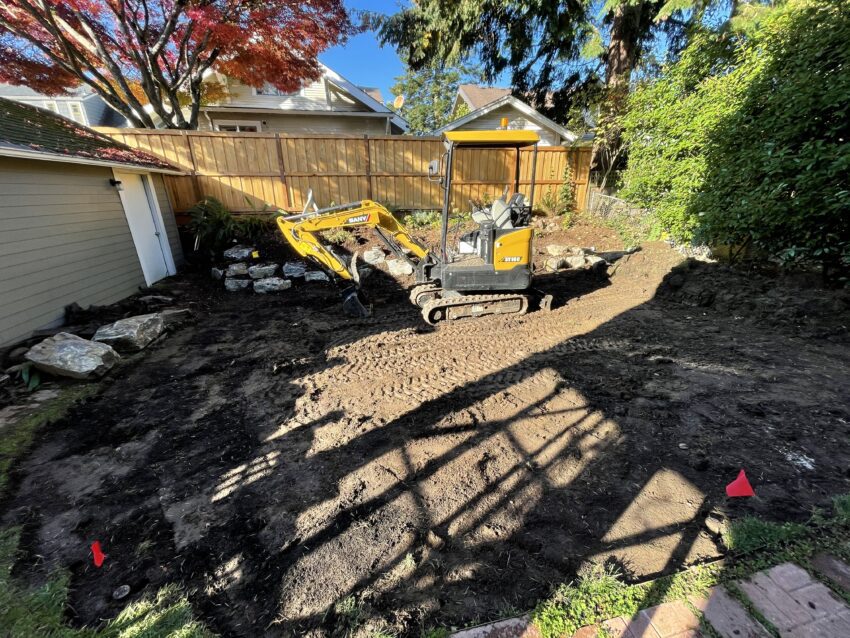 Our "groundbreaking" garden
Our "groundbreaking" garden
Get it? Ground-breaking?
So we bought this house in Portland, Oregon with audaciously bland landscaping. I know, first-world problems and all.
Since we were spending most of our time at home due to COVID, we decided to burn the existing yard to the ground and start fresh. We had a few stakes in the ground:
Grass be gone!
Only native plants
Something that would eventually fill in to cover any bare ground
A layout of plants that would mimic what you would see in the woods
On the left is what you often see in home landscapes. Landscapes that follow a pattern and are planted too sparsely to ever cover the exposed ground. If the plants do start to fill in, they'll get trimmed to remain in their silos.
Design
Our next-door neighbor has a front yard we liked, so she pointed us to the designer she used, Erin Ray. After listening to what we were looking for, she was pondering it on her next few hikes in Mt Hood. She sent us some photos she took.
The sea of green, fallen logs, stumps, and a creek all ended up in the final design.
We also wanted to create an interesting front walkway and a small patio in the backyard. We had visited the Portland Japanese Garden a few months earlier. In addition to being a stunning garden, we were blown away by the creative stone walkways. These photos inspired what we eventually did at our house.
Speaking of Japanese things, we are very fortunate to have a very large Japanese maple and an enormous douglas fir in the yards behind us. Our neighbor also has a house painted a beautiful Kermit-the-frog green.
Destruction
Then the fun began! We removed all the existing landscaping, including the front walkway, a small patio, and a rock wall. Our yard slopes quite a bit from the back edge of the property to the front sidewalk, which gave us the opportunity to do some contouring. This made it look even more like a small piece of the forest.
Rock work
At Erin's recommendation, we hired Randy Rayburn to implement the design. He did all the rock work, including the creek, patio, front entrance, pathways, and the landscape rocks. He also did most of the planting and worked with Erin on the selection of plants. Our job was mostly to interfere and change our minds. 🙂
Planting
It's hard to believe how sparse things looked when everything was planted! Except for some trees planted in the side yards, all the plants came from Boskey Dell Natives, an amazing native nursery located just outside the Portland suburbs.
Planting was finished in January and mother nature had an exciting first year planned for our new residents! The next month we had a snowstorm, ice storm, and heavy winds that destroyed over a thousand street trees. The spring was one of hottest and driest in history, sending the city back into a drought. The summer was the hottest in history, including setting an all-time high of 116℉. The fall started a six-month stretch that was the wettest ever.
Twenty species of plants suffered losses or were otherwise damaged—uprooted, burned, or struggled. Here is our full plant list. I noted the ones that haven't done as welll. If you're planning an Oregon native garden, perhaps this will be useful in ruling out some plants that may not be as adaptable.
Conclusions
Despite some turmoil, everything is now looking much better than we could have expected. This is our second go-around with a native garden, the first being our garden in California. Here are some things we've learned:
Having a native garden seems to be significantly easier in Oregon than it was in California. Due to the drought in California, we had to do a lot of manual watering, but the California plants are far more sensitive to overwatering than the Oregon natives.
Laying out plants in a more "random" fashion yields beautiful results. Plants don't need to be planted in clusters or rows or be evenly spaced.
We've learned that it's best to keep the total number of plant species relatively low. We didn't really go low enough, but when things have died, we've either replaced them with the same species or planted something else that has already succeeded elsewhere.
Birds! We're already seeing an increase of birds over last year. Hopping around on the ground, landing in shrubs, digging around for insects, bathing in the creek, and gathering material for nests.
Ground cover is a great substitute for mulching if you can put up with some extra weeds while things get established.
Summer 2022 update*
Here are some pictures I took about 18 months after our initial planting. In the spring, the record-breaking rain pushed Portland back out of drought and most of the plants seemed very pleased by this.
The rain has caused things to fill in much better than we were expecting. Another year and there won't be much bare ground left to walk around.
My plan is to update this every summer when things are generally looking their best.